Interested in an internship at Open?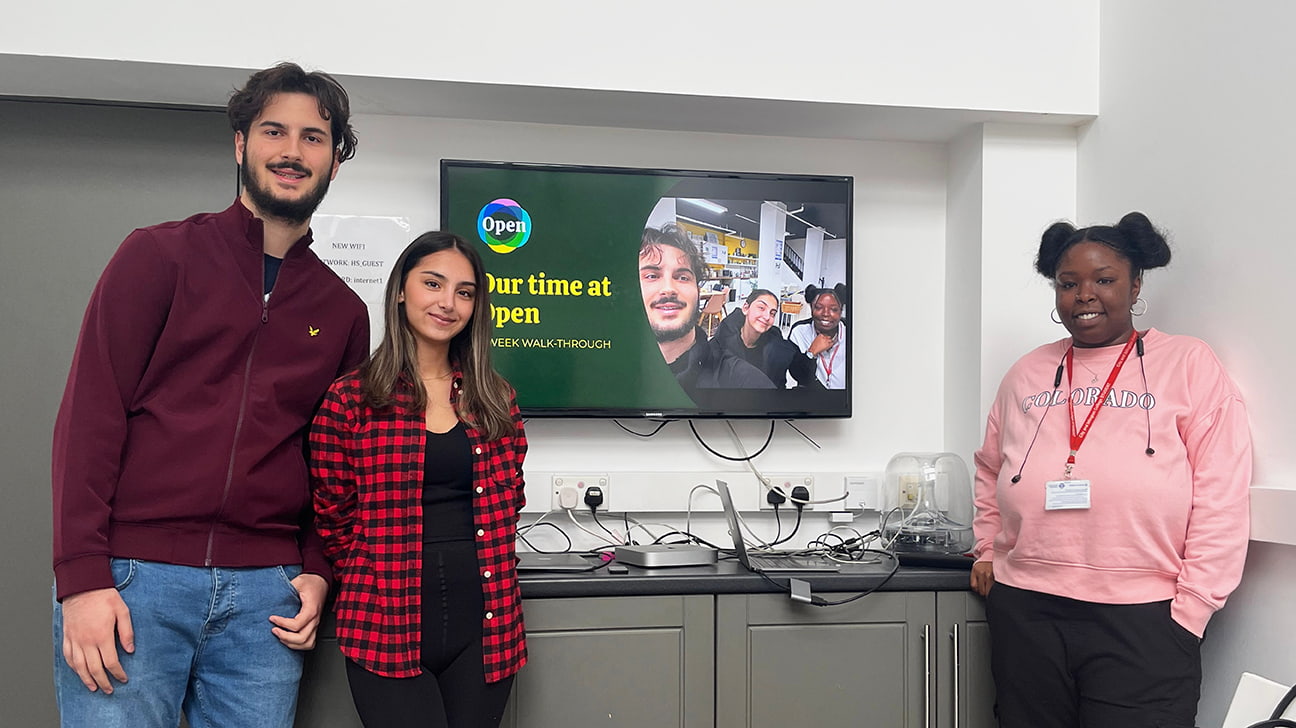 With the help of Local Network Village and City & Islington College, our intern programme gives young people a taste of the opportunities in our rewarding sector.
At Open, we're all about doing the right thing, right now. Part of that means giving people like you the experiences you need today to help you enter and influence the advertising industry in the future.
Our five-week and three-month internships help prepare people for exciting roles throughout our industry – with the opportunity to move into apprenticeships or entry-level roles with us further down the line.
"You can provide the innovation and creativity that's vital for the future of this industry."
We know it's hard trying to find and get started on the career you want whilst also having to worry about money. And we believe that all hard work should be rewarded and recognised. That's why we pay our interns the London living wage throughout their time with us.
When you join our team, not only will you be paid to take on interesting projects that make a real difference to the world, but you'll also be paired with a great mentor who will support you day-to-day. You can ask them the questions you always wanted to ask, and start building a professional network for after your studies.
Our internship programme is not only great for young people, it genuinely benefits both us and our clients. You can provide us with valuable insights from a digitally savvy and socially conscious generation – bringing with you the innovation and creativity that's vital for the future of this industry.
But that's enough from us. Why don't you read what some of our incredible interns have to say about the programme?
"In my five-week programme, I worked across different departments (HR, Marketing, Finance and Client Services) to get an idea of what each team covers and is responsible for. What I've gathered is that communication is key when working in a team as it helps for a flawless execution. Working with my mentor and her team has taught me a lot about their field and their day-to-day tasks which helped me to think about the route I would like to take after college as I am determined to pursue an apprenticeship, ideally with Open."
Montana, 2022
"What I enjoyed the most whilst working as an intern at Open was definitely how involved I felt with the agency; taking part in live projects, such as working with UNICEF to help the Ukraine crisis. This was a rewarding feeling knowing that the work we produce for the business matters."
Tina, 2022
"Open has introduced me to many networks that I hope to build that can help me in future opportunities. I was also able to receive several references that I can use on my CV and applications."
Glen, 2022
And here's an incredible piece of work done by two of our 2021 interns, Olivia and Yasmine, to teach our existing and potential clients how to engage with young audiences.
If you've made it this far, then this could be the next exciting step for you! Don't be shy, begin your future with us right now by submitting your interest in an Open internship to: jobs@opencreates.com