Staying creative during Covid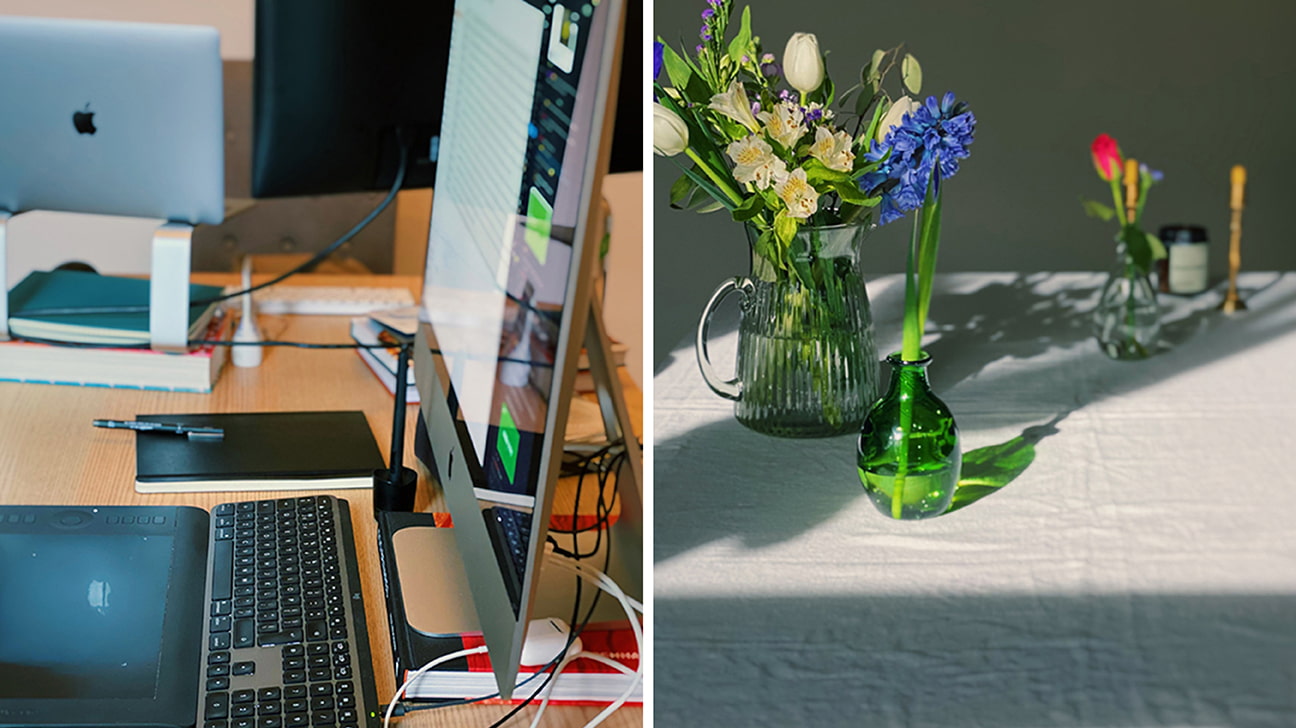 James goes through the things he's learned about creativity – and himself – during Covid, providing some helpful tips and advice on working from home.
Don't panic (Go easy on yourself)
To state the obvious, this past year has been worrying, unknown, scary, boring, lonely and repetitive on a seemingly endless loop. The work has felt harder, motivation has sometimes been more difficult to come by, and the feeling that you're on your own has been hard to shake. But, to (badly) paraphrase Dolly Alderton, to live through this, perhaps with children to school and care for, and to remain creative, inquisitive, and excited about what we do, really is a success.
That's the thing I remind myself often. Especially after a day where the blank page feels overwhelming, a creative review doesn't go as planned or an idea that should come easily, feels illusively out of reach. It's harder at home – there's no commute to watch the world go by, no water cooler conversation, no overheard snippet that sparks an idea – but it's ok that it's harder, that it might take a little longer. We're all learning how to do this thing all over again. It's okay.
Above all, try to enjoy it. This 'new' normal. There will be no return to the old normal. It's up to us to find new ways to work, new processes, and new ways to have fun in the work we do. As Ogilvy said, "Where people aren't having any fun, they seldom produce good work."
Be vulnerable
In the words of Grayson Perry, "[In] any kind of creative activity, we have to be open and be prepared to fail and put our heart on our sleeve." And so it is in what we do. Putting yourself out there, to peers, or your boss, or a client, and saying; "This is what I think we should do". There's a vulnerability in sharing half-formed ideas, in presenting ideas to be crossed through or thrown away. It takes bravery to say a really stupid idea on a Zoom call with ten people, in the hope of sparking a conversation or a better idea. And, at a time like this, when we feel vulnerable, on some level, all the time, it can be easy to shy away from putting ourselves out there, but we must. Always. It's the only way we'll produce our best work.
Just do it
"Better done than perfect" – I hate that phrase. I like perfect. I like crafted. I like nicely drawn ideas. But working from home, without the hustle and bustle of a busy, inspiring, creative space, 'done' can often be a real achievement in itself. 'Done' can mean getting the bad ideas down – things that fill a page. Ideas you want to throw away immediately. They're better on a page, badly drawn, typo'd, and imperfect than they are rattling around your head.
There are lots of old tricks for getting bad ideas down, or ways to work through the fear of the blank page – dramatise the benefit, personify the problem, play on the new news, write it as a film script, write it as a press ad, use a different colour pen, sum it up in a sentence, a single frame, a tweet, how would you tell it to a friend, to your mum? This isn't new advice, but it works. Get it out, get it done, then work on making it perfect.
Buy a printer
Creative briefs, photography, ideas, inspiration, mood boards – they belong on paper. They're designed to be highlighted and annotated, stuck up to inspire and remind. They belong on walls, or the floor, or unruly piles around you. Not as tabs or bookmarks or PDFs on Slack.
(Please recycle).
Talk
I talk a lot. Some might say too much. But, working from home, with a partner's Zoom meeting ongoing at the dining room table next to me, demands quiet. And I've realised that's very bad for my creative process.
Talk to your husband, girlfriend, flatmate, dog, cat. Talk to yourself. Say your ideas out loud, sell them to whoever is around you. Pitch a film, sell a mail pack, persuade yourself in the mirror. So often good lines, concepts, ideas come from the ramble of speech – something mid-sentence you utter without thinking. Create space for this. It's weird at first, but it works.
"It takes bravery to say a really stupid idea on a Zoom call with ten people, in the hope of sparking a conversation or a better idea. But we must – it's the only way we'll produce our best work."
Not. Everything. Needs. To. Be. A. Zoom.
I am not the first to say this, and I won't be the last. When I work with a writer or a team, ideas come at random, a shout across the studio, a screengrab of a note WhatsApped from the bus home, over lunch, over coffee, over a beer – they rarely present themselves between 10 and 11am on an allotted Zoom call.
It's too stilted, too forced – sitting, facing one another. Personally, I like to pace and fidget, so I find that phone calls can be much more productive. Untether yourself from your computer, walk around your living room, bedroom, garden, balcony. Lie down, fold your laundry, return toys to bedrooms. Get up, move around, potter, informalise the space, turn an hour meeting into a ramble, a chat, two people throwing around ideas – anything but another meeting.
Forget it
One of the biggest challenges is that there's nothing to do and nowhere to go – no shopping, cinema, restaurants, pubs, cafes, museums, galleries, friends' houses – so the idea of forgetting a project for a while is incredibly hard.
I've found there's a real difference between 'closing your laptop and not working on a project' and actively filling your mind with other things that let you subconsciously work on a problem. The kind of problems that watching Bake Off in the same room as your desk, and calling it switching off, just won't solve.
Cooking, reading, DIY, long walks, taking photographs – things that require thought and attention – I've found to be much more successful at letting me switch off from work. But the most important thing I can say here is…
Get out of your (work) bubble
Take a break – especially at weekends. Put your computer away if you can. One of the Friday rituals in our house is to pack away our machines and reclaim the dining room table. It's symbolic – leads are wrapped, iMac's carefully carried upstairs, tablecloth laid, a bunch of flowers and candles placed. It marks the end of work and the beginning of the weekend.
Get out of work mode. Stay off LinkedIn and Twitter if you can. There are always conversations about work and the sector at 8am on a Saturday morning that we could join. But you don't have to. Talk instead about what to cook, what to listen to, watch the latest episode of WandaVision, whatever works for you.
Most importantly, find inspiration *outside* of your 9-to-5. Indulge your passions and interests. Give your brain time to relax from whatever happened that week. Switch off from advertising, from fundraising, from tricky feedback and problems to solve.
Here's a (subjective) few from my current reading list:
Huit Denim Co. Blog
Thoughtful musings on the creative process, makers, icons, words of wisdom (and very fancy jeans)
Ad Campaign Boot Camp
Okay, this isn't exactly outside my bubble, but there's nothing like a library of iconic ads to remind you of the power of creativity
Can't Get You Out of My Head – Adam Curtis
An emotional history of the modern world, and a tour de force in storytelling.
Vittles
A long-read newsletter on food, culture, history, people, community, capitalism, cities, and colonialism.
The Modern House Podcast
A sort of Desert Island Discs for design lovers.